March 16th, 2010 — Photos, twins, Uncategorized
Worth a thousand words:
We came home from preschool with this artwork and the accompanying smiles this week.
September 16th, 2008 — family, Photos, twins
Click on the photos to see a larger image!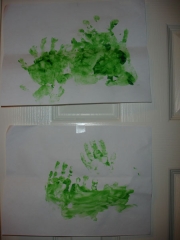 Mother's Morning out has been fun for our terriffic twosome.  On Thursday we were presented with their first artwork  (Princess is on the top, Mr. H on the bottom in the above photo). One of the songs of the week at Mother's Morning out was "Twinkle Twinkle Little Star".  When Dad started to sing this song Princess broke out her finest dance moves and lit up the floor!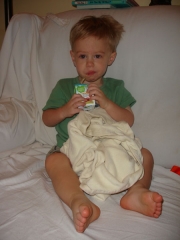 Mr. H was under the weather all day long on Friday. We were concerned for him. Plenty of fluids, a lot of TLC from SuperNanny, Mom & Dad, along with a good night's sleep and he was back in fighting form on Saturday.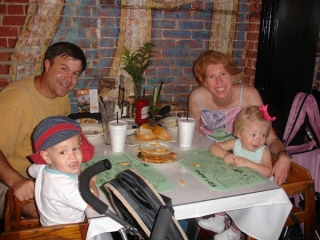 We packed up the minivan and went to St. Augustine to window shop on the old street. We finished off with a lunch and then it was home for naps.
This is a labor of love. If you have visited the site please take the time to drop us a quick one liner. We love to read your comments.